Rental and location recordings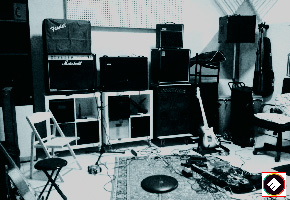 We supply backline, outboards and microphones rental for indoor or outdoor use (concerts, festivals, recordings, videos, etc ...)









Gretsch Maple Drums:
bass drum: 20" x 18",
snare: 14" x 5", or Pearl Professional Series 14" (iron, '80s), or Yamaha Steel 14" x 6,5"
tom 1: 10" x 8"
tom 2: 12" x 10"
floor tom: 14" x 15"
1 hi-hat stand
3 cymbal stands
1 Single Pedal or Double Pedal Pearl Professional
Cymbals:
Sabian Hi Hat 14"
Paiste 402 Nickel/Silver Hi Hat 14"
Paiste 101 Crash 14"
Sabian Crash 16"
Tosco Crash 18"
Zildjian Ride 18"
Zildjian Scimitar Crash/Ride 18"
Bass Amps:
Trace Elliot GP12 SMX (300 W) - cabinet 4 x 10" + 1" (input valve and/or solid state)
Ampeg BA115 (100 W) - cabinet 1 x 15" + tweeter
Gtr amps:
Fender Stage 112SE (160W), 2 channels + footswitch - 1987
Vox Pathfinder, 2 channels + footswitch
Vox AC-30, 33W class A (1978)
Marshall JCM 800 50W (1980)
Stomp Boxes:
Boss Hyper Metal HM-3
Boss FDR1 Fender '65 Deluxe Emulator
Electro-Harmonix Chill Switch Momentary Line Selector
Electro-Harmonix Big Muff (USA) (1981)
Electro-Harmonix Big Muff (Sovtek)
Electro-Harmonix Smallstone
Electro-Harmonix Metal Muff with Top Boost
Behringer Hellbabe wah-wah
Digital Stage Piano + stand:
Yamaha P-70s
Drawmer MX-60 Front End One (preamp, gate, de-esser, equalizer, 3 bands tube saturator, limiter)
Joe Meek Six-Q (channel strip)
Drawmer Quad Gate DS-404
Rocktron Exciter RX-1
Vonny Acoustics Expander/Gate EX-1
Urei 1178 dual compressor limiter
DBX 160-XT
DBX 166A
LA Audio C-8
LA Audio GCX-2
Vonny Acoustics CL-1
RSP Reanimator comp / limiter
Yamaha Rev-5
Digitech Studio Quad V.2
Lexicon MPX-100
Alesis Quadraverb GT
Digitech IPS-33B
Alesis Midiverb 3
Yamaha EMP-100
Roland SDE-3000
Alesis AirFX
Korg Kaoss Pad

04 Telefunken M-16 (tube, pulti-pattern)
01 Neumann U-89i (condenser multipattern)
01 Akg C-414 B-ULS (condenser multipattern)
01 Akg Solid Tube
03 Akg C-3000 (black type / condenser multipattern)
03 Sennheiser MD-421 (vintage '80s)
01 Shure Beta 91 (condenser)
01 Electro Harmonix R-1 (ribbon)
Turntable player: Technics SL-1200MK2
.:: LOCATION MULTITRACK RECORDINGS ::.
If you want to record in a private place, in a concert hall or on a live show, we can help you to get professional results with this proposal:
Digital Hard-Disk recorders, up to 72 audio tracks (lossless PCM audio)
Ups 220V
Up to 60 Preamps
Microphones, stands, cables
Transport, setup, recording
The multitrack recording can be exported, edited and mixed to get a professional master.